DESTINY-CNC TECH ideas: To be your counselor, to be your partner, to be your friends.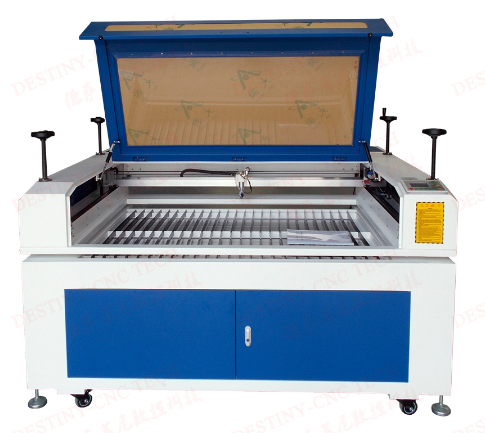 DT- 1060/1390 Separable style CO
2
Laser engraving machine for marble ,granite,glass
Machine parameters
Machine Model

DT-1060/1390 separable style

Working Size

1000*600mm / 39.3 in * 23.6 in (X * Y axis)

1300*900 mm / 51.2 in * 35.5 in (X * Y axis)

Laser Power

60w/80w

Laser Type

Sealed CO2 glass laser tube, water-cooling ,10.6nm

Driving System

3-Phase Stepper Motor &Belts transmission

Cutting Speed

0-40000mm/min

Engraving Speed

0-60000mm/min

Laser Output Control

1-100% software setting

Resetting Position Accuracy

≤±0.01

Smallest Character

Chinese 2.0 *2.0mm English 1.0*1.0mm

Highest Scanning precision

2500 DPI

Power Supply

220V/50Hz, 110V/60Hz,

Operating Temperature

0-45℃

Operating Humidity

5-95%

Operating System

DSP CNC Control System in Win XP, Win 7

Graphic Format Supported

BMP, PLT, AI, DST, DXF

Software Supported

Corel draw, Photoshop, AutoCAD, Tajima

Optional device

Rotary device ,Red light pointer

Color separation

Yes
Machine descriptions
DT-1060/1390 separable laser enrgaving machine is with unique design,excellent technique,DTseries separable style laser engraving machines are popular in stone-engraving industry and many heavy-material engraving industries.
DT series separable style laser engraving machine is developed for heavy materials especialy for granite,marble and other stone.It brings great convenience to customers.The machine is designed by upper part lower part,and the two could be separated.The upper part could be moved down from the machine,and the lower part could configure suitable platform according to customers' needs. The design changes the traditional engraving method.For some heavy materials we could put the upper part onto them,so that avoiding the difficulty of moving heavy material.Meanwhile,it solves the problem that platform has a limited bearing ability.Both parts could be up and down so that engraving objects with greatly thickness-changing is much easier to process.
Machine features
1). The upper part and the under part of the machine are separated. The upper part can put on large and thick marbles/stones/granites directly.
2). The machine is double up-down worktable. The upper part and the under part can move up and down automatically, which is very convenient for thick material.
3). High class for tombstone
Applicable materials & industries
Marble, granite, ceramic, glass ,tiles or other non-metal materials. It's suitable for tombestone processing, decoration or construction industry etc.
After-sale service and Warranty
1. Two years guarantee for the whole laser machine. All the machines are produced according to standard to keep the quality.
2. If the machine is with any problem, our technician will help to solve online first time by Skype, email ,Whatsapp, Wechat etc. or by phone if urgently . We have excellent engineers speaking English,they are available at 24 hours .No time difference limitation . Can supply the solution for any problems. In addition ,they also can go to your country to solve the machine problems if you can't solve yourself online .
3. There are detail machine operation manual and video CD sent together with the machine.
If you like it , please send us inquiry or contact with us for more detail information .We will offer our best solution for you .DESTINY-CNC TECH welcome you .