DESTINY-CNC TECH ideas: To be your counselor, to be your partner, to be your friends.
DT-20w/30w/50w Fiber laser marking machine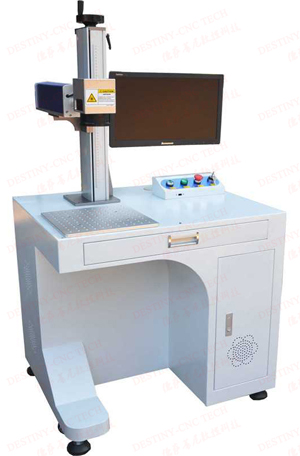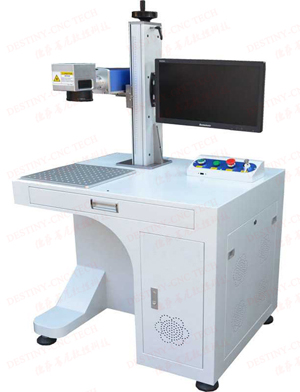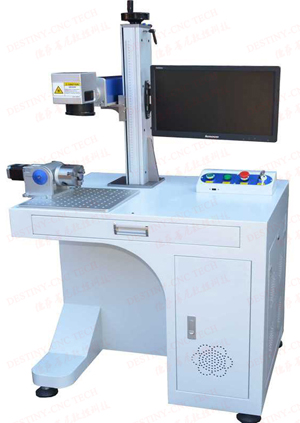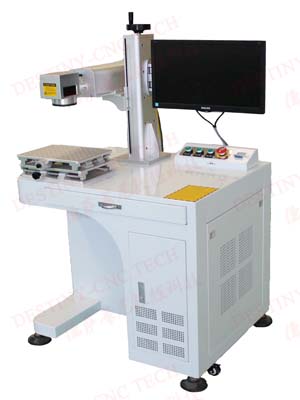 Machine parameters
Type specification




DT-20

DT-30

DT-50

Wave length of laser

1064nm

Laser repetition frequency

20kHz~100kHz

Laser power




20W

30W

50W

Marking scope

100*100 /200*200mm/300*300mm

Laser sources

Fiber module

Laser Head

Scanning head

The minimum focus diameter

20μm

Minimal character

0.01mm

Marking speed

≤7000mm/s

Repeated accuracy

0.0025mm

Cooling ways

Force-air Cooling

Power supply

110V/60Hz or 220V/ 50Hz

Process Material

All kinds of metal and part of Non-metal Materials

Support format

PLT, BMP, DXF, JPG, TIF, AI etc

Package

Standard plywood case for export
Machine features
DT Fiber marking machine is permanent and indelible marking process, which stands against wiping, scuffing, impacts, wear and tear, can only be removed by grinding or surface removal. Thus the machine sustains authenticity of your brand against sort of tempering .
This machine is non-contact type process. It does not produce any deformation in product unlike in punching, stamping, pneumatic pin, vibratory pencil etc. This gives accurate and aesthetic marking independent of hardness of material.
This machine is highly flexible process compared to any other marking process. It can mark any images and fonts without changing any punch, die, stencil etc. unlike other conventional process.
Since laser can produce very fine beam with accuracy in micron, many accurate and micro details with precision can be marked with laser marking. Laser can produce aesthetic images which otherwise difficult to create with other marking process.
Since Laser marking is non-contact type, no pre or post processing is required, which in turn significantly increase marking productivity.
Laser marking helps significantly in cutting operating cost by reducing labor cost, tool cost, consumable cost, set up time, rejection improved cycle time.
Fiber laser is pumped with special high power multimode diodes via cladding surrounding as single mode core. Life of this individual multimode diode is quite long corresponding to conventional diode pump solid-state laser (DPSSL).
Fiber laser is virtually Maintenance Free compared to other conventional laser, as it doesn't have mirror to be aligned and almost no optical components, which could have been damaged.
Fiber laser is pumped by multiple identical diodes all feeding same gain medium, whereas DPSSL is pumped by a single diode bar. In the unlikely event of failure of any single pump diode in the fiber laser, the laser continues to work with slightly lower specification. In case of DPSSL, the total laser fails if diode stops working.

Applicable materials
Electrical Engineering and Electrical part and component ;Telecommunication product and Mobile communications(cover,battery,keyboard);Jewellery,eyeglass,clocks and craft;Building materials,PVC pipe;Car motor car spare part;Insturment and meters and cutting tool;plastic case;aviation and aerospace;military product;hardware fitting and accessory;sanitary appliance
stationery;food and beverage ;medicine package andmedical instrument;solar Pv industry: silicon wafer; rubber epoxy resin ABS Printing ink Coating film.
After-sale service and Warranty
1. Two years guarantee for the whole laser machine. All the machines are produced according to standard to keep the quality.
2. If the machine is with any problem, our technician will help to solve online first time by Skype, email ,Whatsapp, Wechat etc. or by phone if urgently . We have excellent engineers speaking English, they are available at 24 hours .No time difference limitation . Can supply the solution for any problems. In addition ,they also can go to your country to solve the machine problems if you can't solve yourself online .
3. There are detail machine operation manual and video CD sent together with the machine.
If you like it , please send us inquiry or contact with us for more detail information .We will offer our best solution for you .DESTINY-CNC TECH welcome you .